AUGMENTED REALITY
Studio: NOVELAB
SEVEN GRAMS uses augmented reality (AR) to viscerally expose the connection between the smartphones app users are holding and the abuses and exploitation linked to mineral extraction in the DRC.Through detailed AR animations, app users are first introduced to the inner workings of their smartphones and the minerals powering them.
The experience then uses AR isometric cartography to trace these minerals back to their source: the mines of the DRC, where labourers including children work in dangerous and life-threatening conditions, and which are frequently controlled by unregulated armed groups using forced labour.
Although we use our smartphones countless times each day to connect to the web and each other, we are largely disconnected from the places and human realities from and under which their base materials were taken.
Using augmented reality (AR) enables us to materialise the supply chain in front of users and bring the DRC right to their homes and hands. AR allows us to make an intrinsic narrative point: the story of SEVEN GRAMS is not that of a far-away land separated from our everyday lives; it is an ongoing lived experience directly affected by our global technology consumption.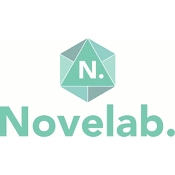 Founded in 2009, Novelab (formerly AudioGaming) creates interactive and immersive experiences and installations. We combine high-end technology with high-quality stories to make immersive and engaging experiences. At the crossroads between a tech start-up and a content creator, Novelab crafts video games like Vandals, Type:Rider, XR experiences such as Notes on Blindness or Spheres, and interactive installations. Many of the company's projects have been selected and awarded at major international festivals such as Sundance (2016, 2018 & 2019), Tribeca Film Festival (2016, 2017 & 2018), SXSW (2014, 2016 & 2019), Sheffield Doc/Fest (2016 & 2017), or the Venice Film Festival (2017 & 2018). Novelab is based in Toulouse and Paris, France. With a fast growing turnover, Novelab obtained the French Tech Pass in 2015. In 2016, Novelab released creative tools under its brand "Le Sound" (http://lesound.io/). LeSound offers a simple goto solution for creative procedural sound design plugins developed under the brand AudioGaming.